Co working Space At Red Art Works(RAW)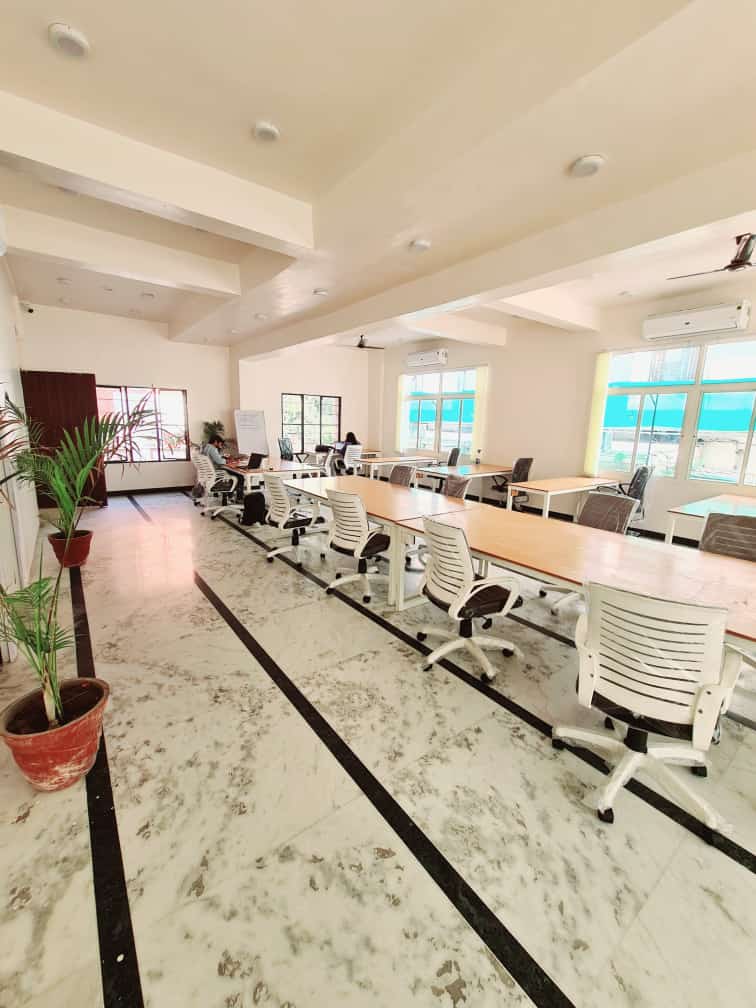 Here we are going to talk about a very trendy model of co-working spaces in this Blog.
What are co working Spaces and the reasons to work in co working space?
The term coworking describes a new way of working that is becoming increasingly popular among companies and freelancers alike. Co working spaces are shared office spaces that provide a flexible and collaborative working environment for people who might otherwise be working alone at home or in a traditional office setting.
Coworking space in Jaipur is becoming the new normal for many companies, especially small businesses. Co working space is a great way for many companies to save money and still be productive. This blog will look at the different reasons why people choose to work, the pros and cons, and the process of finding a coworking space.
There are many reasons why a company might choose to work in a coworking space. For one, co working space can be more cost-effective than traditional office spaces, since they often offer membership-based access to a shared pool of resources, including meeting rooms, printers, and Wi-Fi. Additionally, coworking spaces can promote creativity and collaboration by bringing people from different fields and backgrounds together in one shared space. Finally, coworking spaces can offer a more flexible and relaxed working environment than a traditional office, which can be beneficial for employees' mental health and well-being.
by #red art works. 
What makes Red Art Works a great co working space in Jaipur? 
Red Art Works is a great place for coworking because it has a variety of amenities that allow you to work comfortably and efficiently. The workspace is clean and spacious, and the staff is always available to help with any needs you may have. The location is also convenient, with plenty of parking and easy access to public transportation. If you are looking to expand your business and make your presence known in the market, then coworking is one of the best ways to do so. A lot of today's businesses have their own separate offices, but a coworking space can make your business known among the masses in a short span of time.
RAW(Red Art Works) was created with a mission to redefine what it means to have a home in a co-working space. Red art works' co-working culture is very unique and amazing their office design is superb and they have a lot to offer. Red art works co-working culture is the place where thinkers, innovators, and creatives come together to be inspired, connect, collaborate, and create. they have a lot more to explore there are many benefits of joining the culture and interacting with other like-minded individuals. 
 How to join co working Space at Red Art Works at Malviya Nagar, New Atish Market? 
The coworking concept has taken the corporate world by storm and has quickly opened up an alternative workspace scenario for many employees who don't want to be limited to a 9-to-5 schedule. The solution is the coworking space, where people from different professional backgrounds and industries come together to work in an open and collaborative environment. If you want to join coworking at Red Art Works, you can visit us at Malviya Nagar or the new Atish market. Our coworking spaces offer amenities such as a coffee shop, high-speed Wi-Fi, canteen, pantry, and meeting. 
There are a few easy steps to joining a co working space at Red Art Works. First, choose the membership option that best suits your needs. You can either become a member for a day, a month, or years. Once you have decided on the membership option, fill out the sign-up form on the website. Be sure to include your contact information. After you have submitted the form, someone from the coworking space will contact you to confirm your membership.
Conclusion: 
Coworking is becoming more and more popular in this day and age. Many people are starting to work in a coworking space and exchange ideas with others in a community environment. If you are interested in coworking, check out red art works. We offer coworking spaces and meeting rooms in your area.
With all the great benefits of coworking, it's time to look for a workspace at RAW.